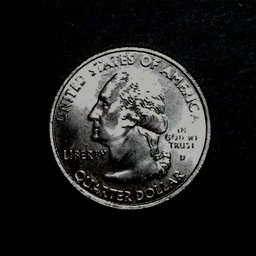 This distraction comprises everything you could possibly want to know about our U.S. coins except the composition ... too depressing.
A quarter is actually a useful measuring device unless you already have a ruler in your pocket protector. The diameter is just under an inch and the thickness is about 70 mils.
If you're really desperate for a measurement, you can roll the quarter along the surface. Each complete rotation covers three inches.
Dimensions below are metric.
| coin | front | back | diameter | thickness | weight |
| --- | --- | --- | --- | --- | --- |
| penny | A. Lincoln | Lincoln Mem. | 19.1 mm | 1.55 mm | 2.5 g |
| nickel | T. Jefferson | Monticello or westward | 21.2 mm | 1.95 mm | 5.0 g |
| dime | F. Roosevelt | torch, olive, oak | 17.9 mm | 1.35 mm | 2.27 g |
| quarter | G. Washington | eagle or state | 24.3 mm | 1.75 mm | 5.67 g |